Jørn Olsen, Head of Marketing and Analytics at ZetaDisplay Norway explores why customer centricity is the key to success in retail and leisure environments, and how you can put it into practice.
Post pandemic- the resurgence of customer experience?
A recent study from Kantar's CX+ has showed that 91% of CEO's worldwide believe customer centricity is essential to business growth. This may seem obvious, but how successful are retail and leisure destinations at putting this into practice?
The answer? Not very! The same study also showed that vast numbers of customers still feel like their experience is not being given the priority is deserves. Brands from a wide selection of categories are still failing to capture the feelings of personalisation, unique and timely engagement that go hand in hand with putting their customers first.
The study showed that hotels are being perceived as doing this best, whereas retail banking ranked right at the bottom.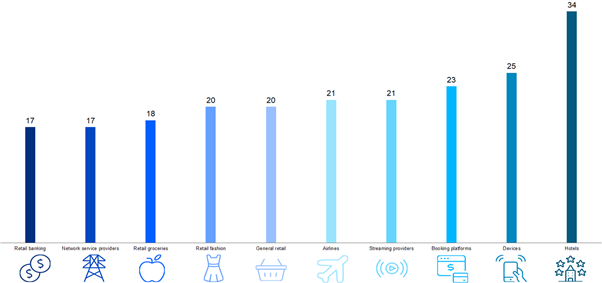 BRAND is truly customer centric – putting my needs and requirements first
Source: Kantar's CX+ 2020
Customer centricity is more than just customer experience. Employee engagement and having a corporate culture geared towards putting the needs and requirements of the customer first are prerequisites for having a customer centric organisation. Customer experience is the visible tip of the customer centricity-iceberg.
"Customer experience is the visible tip of the customer centricity-iceberg."
The resurgence of customer experience
February 2020 marked the peak of "Customer Experience" as a search term on Google Trends. The term had been gaining popularity gradually over the last 10 years.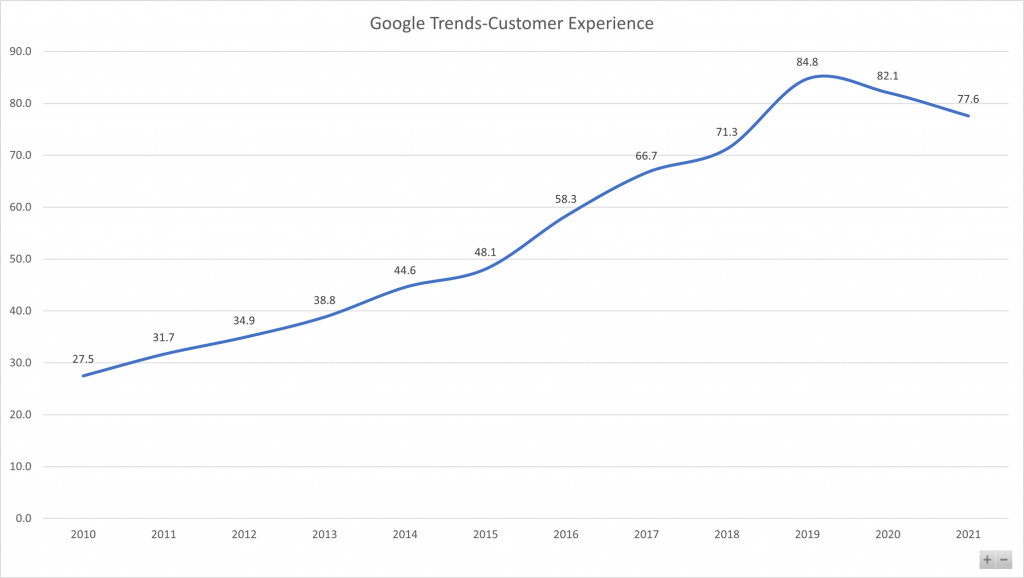 Since March 2020, customer experience as a concept naturally has seen a small dip in popularity on Google due to the pandemic. However, as stores and society begin to fully reopen again, we will most likely see a resurgence in customer experience searches as retail environments gladly welcome back their customers face to face.
The pandemic accelerated online shopping within practically every category possible. People have learnt that they do not need to come to the store, they have to want to come to the store. Creating a pleasant, secure and enjoyable shopping experience is fundamental for the successful reopening of business again.
Throughout the pandemic we have seen innovative solutions to keep customers safe, such as temperature scanners, occupancy control and general advisory. But it is the ability to create those good meeting places between people and brands that will make people want to come to the store again. This is done through emphasizing customer experience.
Customer experience is listening to the voice of the customer
Customer experience can often be misunderstood as to what makes the biggest impact.
From my industry, Digital Signage, impact usually translates to bigger is better. But equally important is facilitating the shopping process by making it as easy and seamless as possible.
Creating a good customer experience can be as easy as helping the customer to quickly locate the products they want to purchase, so they feel like they have effortlessly completed their shopper mission.
Increase engagement with smart solutions
I want to share an example from a pharmacy chain at the international airport in Oslo, Norway. When traveling becomes "normal" again, many will find themselves in need for some remedies on their trip. However, the needs are completely different for people travelling to another city in Norway for hiking versus people traveling to exotic destinations far away.
The Apotek 1 pharmacy has a small podium with travel related remedies and equipment. They cleverly correlate the products being promoted with the flight departure schedule, highlighting items that customers may need at their destination. Blister plasters are advertised when there are departures to hiking destinations in Norway, for example, and items like flight/compression socks for long haul flights.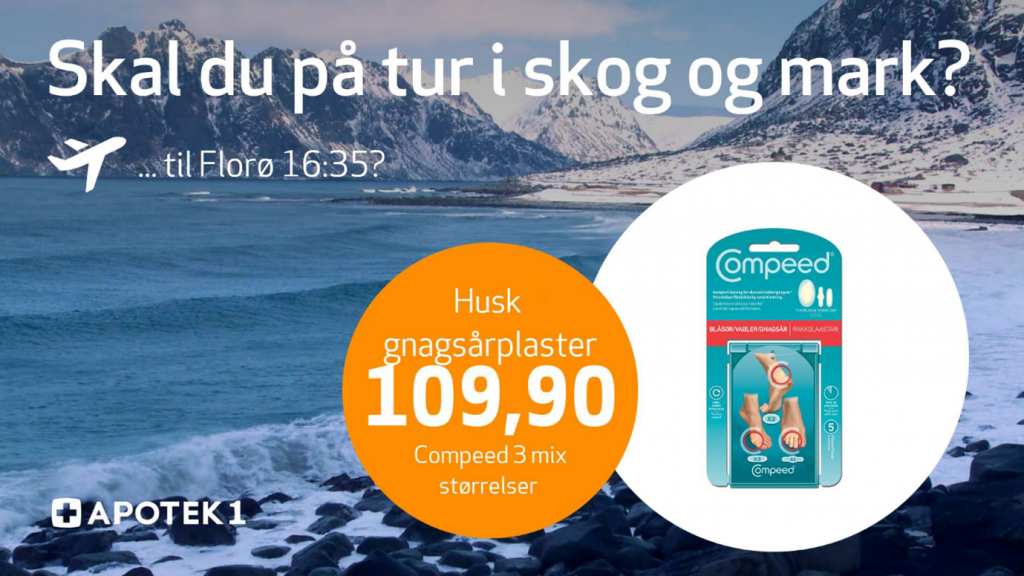 "Are you going hiking?" Triggered by the flight going to Florø at 16:35.
The display at this travel podium is fairly small, but it highlights the needs the travellers to that destination are experiencing. Listening to the customer to iron out friction points makes the shopping experience more pleasant. Investing in the voice of the customer is investing in the customer experience.
"Investing in the voice of the customer is investing in the customer experience."
Customer experience as an investment
I may be a little biased coming from the Digital Signage industry, but a big, beautiful brand wall with a purpose is a great experience for (most) people. They key word here being 'purpose'.
Having a clear objective for any technology installation is the only way to secure an investment. Bleeding edge technologies are often very costly, and they might bring a wow-factor when introduced because of the novelty. However, news becomes old very fast and without a purpose it will be a costly experience for the owners and not a great experience for the customers.
Having an objective with an installation becomes a completely different matter, and that objective is usually about increasing sales.
Retailers are some of the best investors there are, they know that for every Euro spent they need to get more in return, especially when trying to attract customers.
On the high street there is a fierce competition for attention. The ones that have a more interesting offer will attract the greatest number of customers. The value of a customer that enters the store is the benchmark for investments. If an investment manages to bring in enough people to break-even and beyond, the investment is good and if it manages to strengthen the brand it is even better.
Delivering ROI
The Apotek 1 pharmacy has a big display wrapped around the checkout area.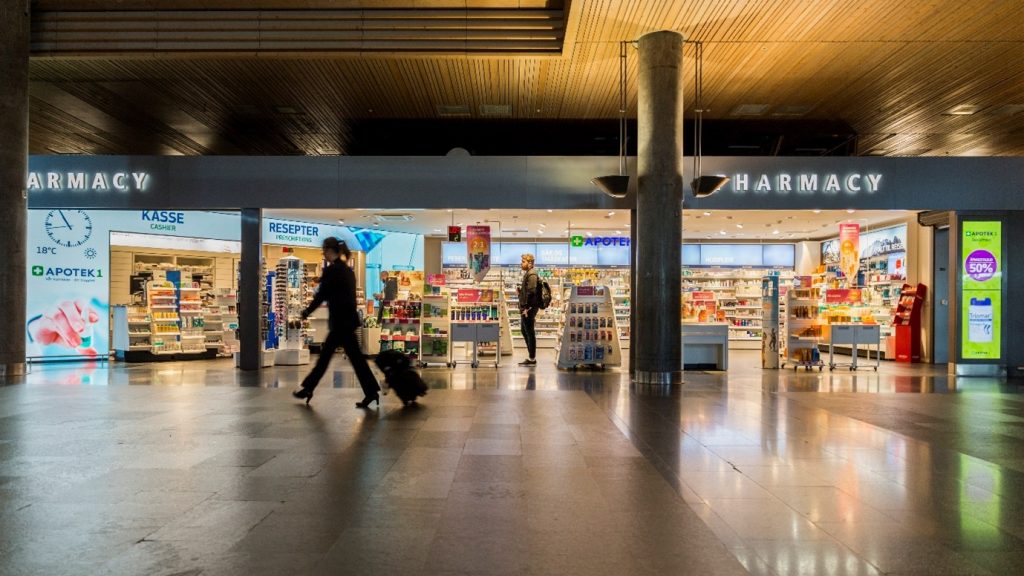 We know for a fact that moving images attract more attention; 135% to be exact. For Apotek 1 they also needed to include the alternative cost of being visible in their ROI calculations as well as the customer value for this location. Not to mention the effects on brand-metrics a flagship store like this could have.
On a normal day close to 1% of the population of Norway are travelling to/from this airport. A great deal of them will stop and purchase something, the others will be exposed to the Apotek 1 brand. Then it is the ability to make people want to come in, feel a certain way and the alternative cost that is part of the ROI calculation.
Content is still king
With 91% of CEO's of the world understanding the value of customer centricity and customer experience, I believe we are looking at some good times for retail.
I can also share first-hand information that even retail banks are starting to wake up! In the same airport as the pharmacy, the largest bank in Norway has made a great investment into customer experience. They are not just showing exchange rates on a big screen, but are also incorporating the feeling of excitement when travelling and tailoring this to the destinations that are departing the next 30 min.
So there is hope even for retail banks!