We have unveiled a new suite of tools on our ZetaDisplay CMS platforms that allow enhanced personalization and the management of campaigns across multiple platforms for Digital Out of Home (DOOH) environments.
The increased functionality targets customers wanting to combine Digital Signage content management capabilities with enhanced functionality including campaign management, advanced scheduling and proof of play.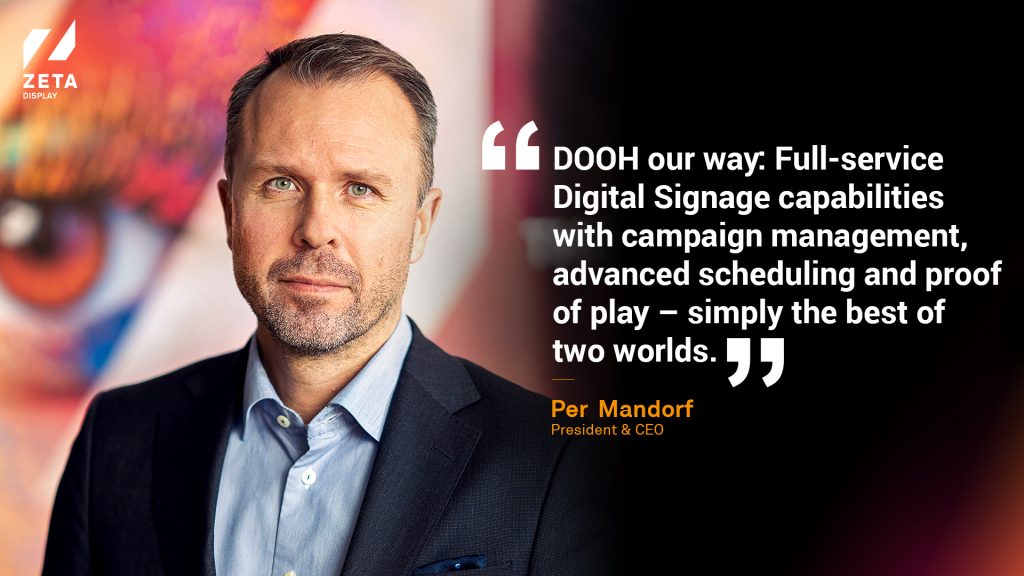 Digital Signage market trends
Over the last 12 months, retailers globally have experienced changing consumer behaviour including decreased footfall and increased digital interaction. Both have influenced customer demand on the functionality they expect from their Digital Signage and campaign management platforms.
The traditional isolated approach to customer installations has been replaced by an integrated one, where multiple data sources are pooled through a personalized user interface onto one software platform.
Invisible to the end consumer, the interface in the physical environment is the entry point to a universe of standardized and personalized software applications.
The result is a truly robust, omnichannel solution which can manage the customer journey, inspire, entertain and communicate. Our futureproofed approach means you can integrate the same customer experience from their devices to your digital displays, creating a brand experience throughout.
New features to explore
Intuitively plan and execute your campaigns from any location to manage, create, edit and schedule content from mobiles, tablets or computers. Upload all file types including videos, graphics, photography and music files and create groups and playlists for rapid content delivery.
Omnichannel integration allows you to connect with POS live system data, social media channels and personalised loyalty data to leverage real-time analytics.
Manage your entire digital estate from flagship LED displays to POS touch screens, scheduling content to appear when you want it.
Our Automatic Scaling ensures your campaign assets are the perfect resolution, size and orientation for your displays.
Real time interactive content can be scheduled and made live in less than a second.
The customisable folder structure streamlines content delivery from agencies, communicators and graphic designers and our Intelligent Image Library ensures that when content gets deleted it is automatically removed from all playlists.
Managing a disparate Digital Signage network has never been easier. Our powerful and innovative communication tool for digital signage allows virtual remote control, as if you are in front of the display.
Using the Player View, you can see a list of all your devices and can easily tell which are online from the green or red light beside them.
Ensure that your scheduled content has been distributed with email notifications that let you know when campaigns are up and running or if any errors have occurred.
Connect and manage all elements of your global digital ecosystem remotely from one platform.
As well as displays, this includes audio, lighting, CCTV and management of energy consumption. Our user-friendly interface lets you monitor device health and supports with remotely diagnosing and fixing any challenges.
Would you like to know more?