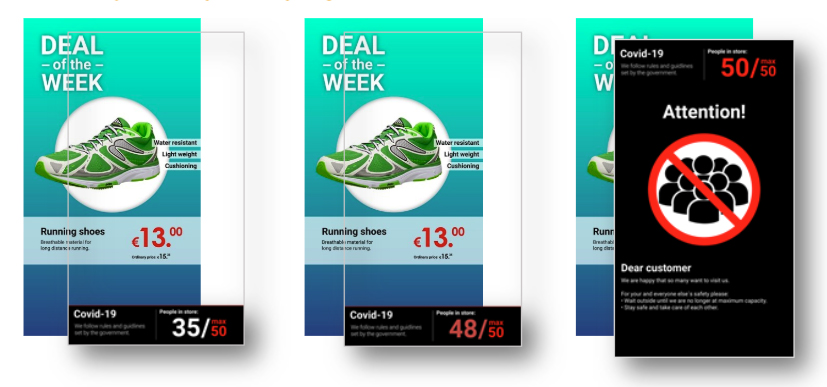 Digital signage in public spaces has been the first point of call for reminding people in workplaces, retail environments, medical practices and in transportation terminals about social distancing, hand sanitizing and wearing a mask.
As people return to workplaces and shops get busier in the run-up to Christmas, Laila Hede Jensen, our Chief Commercial Officer at ZetaDisplay, shares some additional measures that use real-time insights to deliver safer public experiences.
Capacity counters
Allow your customers to easily see when space is full of our tracking solutions. This monitors the number of people in-store and delivers a clear visual indicator when the capacity has been reached, changing the exterior display from green to red.
The count can be instantly updated in line with changing requirements using our proprietary cloud-based CMS.  
Temperature Screening
A highly accurate Temperature Screening Camera measures whether people have a fever. This uses a fish eye lens for maximum detection at any one time and generates a thermal image display in real-time for analysis.  
Antimicrobial Surface Coating 
For interaction at the point of sale that limits a person to person contact, we have partnered with Kastus to integrate its patented antimicrobial surface-coating as part onto displays. This is resistant to 99.99% of surface bacteria and fungi including antibiotic-resistant superbugs such as MRSA and E. coli.  
Get in touch and learn more: