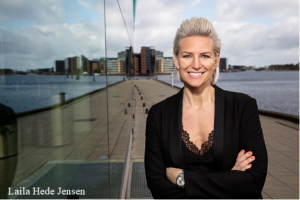 ZetaDisplay, the leading European Digital Signage provider, announces an updated organization and the appointment of Laila Hede Jensen as new Chief Commercial Officer. Laila starts with ZetaDisplay on February 1st and will already attend the ISE in Amsterdam Mid-February.
"I have closely followed ZetaDisplay's development during the past years and I am impressed about the determination to take the lead in the further develop­ment of our industry", comments Laila Hede Jensen. "I am excited to becoming a part of the journey and expand the business internationally. We are acting in a fast-growing market and we are preparing the ground to take the industry by storm. We have an exciting customer portfolio at hand that we intend to strengthen both locally but also across borders. It is a move towards bringing international alignment to the business enabling scalability of its sales, marketing and project functions", Ms Jensen comments.
CEO Per Mandorf adds: "After a period of rapid expansion through the acquisition of seven companies, it is now time to align our resources and to capture scalability, move from national to international sales and operational focus. Laila's appointment will enable us to better respond to customer expectations regarding inter­national projects, complex deliveries, advanced product concepts as well as innovative software solutions. She will be a vital asset to bring our plans to life."
Professional background
Laila joins the company after 15 years of global sales and marketing experience with leading brands in the AV and technology sectors, including Unilumin, SiliconCore, and Samsung. Based in the Nordic region, Laila will lead the business's revenue plans and business development as well as strategic relationships and account management teams.
Most recently at the world's largest LED manufacturer Unilumin Group as Vice President of Sales, Laila built a new international sales and support organization in EMEA. Her role saw build new partnerships with leading system integrators, consultants, end-users and developers worldwide. She also holds a board position at the Digital Signage Organisation, providing its members with a strong voice in the digital signage industry, through learning and sharing best practices.
For questions, please contact:
Per Mandorf, CEO & President
Phone +46 704-25 82 34
Email per.mandorf@zetadisplay.de
Laila Hede Jensen, Chief Commercial Officer
Phone +44 7775432694
Email Laila.jensen@zetadisplay.de
Daniel Oelker, Chief Communication Officer
Phone +46 708-45 80 54
E-mail daniel.oelker@zetadisplay.de
---
About ZetaDisplay
ZetaDisplay acts at the heart of digital transformations in physical environments. We contribute to nudging peoples' behavior at the point-of-decision in retail environments, public spaces, and workplace environments. Our solutions are known as Digital Signage that we develop and offer as SaaS-solutions. We are a European leader creating visible value for an international client base.
ZetaDisplay is based in Malmö, Sweden. The company has annual net sales 400 MSEK and employs 160 employees at nine offices in six European countries. The company controls and maintains today more than 50 000 installations at customers on 50 markets. The share is listed on the NASDAQ OMX Stockholm Stock Exchange [ZETA].