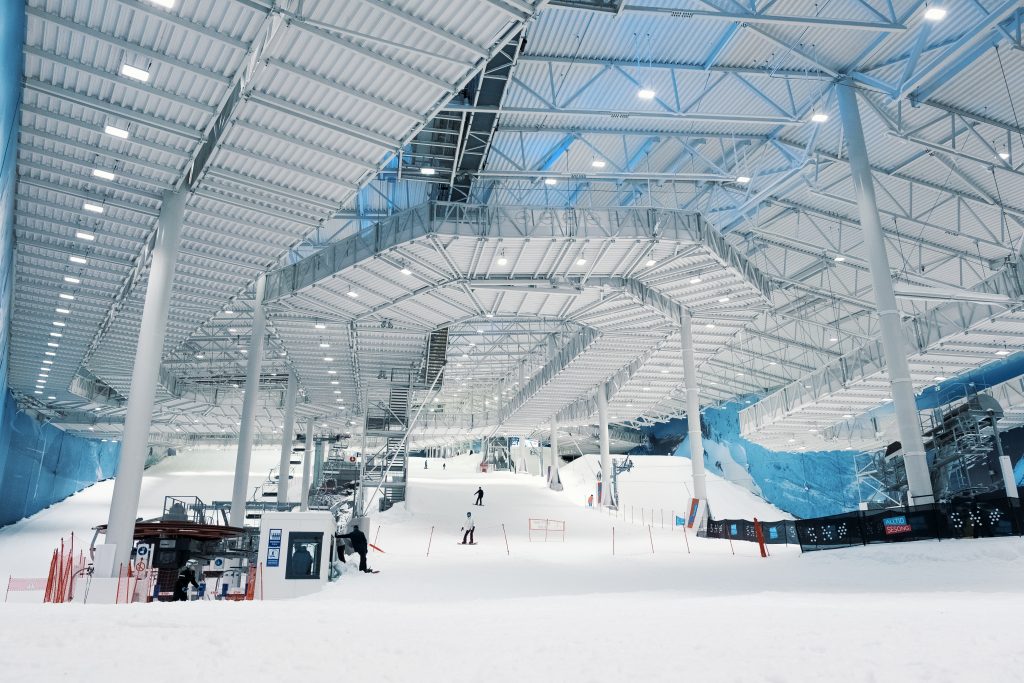 We are delighted to have won the Global Digital Signage Awards in the Sports and Entertainment category for our spectacular Digital Signage installation and futureproofed content strategy at SNØ.
SNØ is the world's largest indoor ski hall near Oslo, Norway. As well as 36,000m2 of snow-covered slopes and tracks, the multifaceted destination incudes a café, restaurant, shop and the EVO fitness studio. Large panoramic windows allow those inside to take in the view and cheer on their friends on the slopes.
We delivered a digital signage ecosystem that enhances the feeling of inclusivity and ensures that no matter where people are in the complex, they don't miss a second of the action. This included three flagship LED displays on the slopes, eight Samsung OH75 outdoor screens on the ski lift and 21 LG 4K screens in the hospitality and retail areas for wayfinding, advertising and to relay the live action back to waiting families.
Our dynamic content integration provides real-time information to skiers and snowboarders, captures and presents action replays, provides an advertising revenue stream and shows live TV feeds during crucial events and competitions in the ski and snowboarding calendars.
"Congratulations to the whole team who worked so hard to make this project such a phenomenal success," says Jørn Olsen, head of marketing and analytics, ZetaDisplay Norway.

"We started the planning and design phase back in June 2018, specifying the required fibre and cabling with no room for error before tonnes of solid ice covered the foundations! The installation team then worked in temperatures of -16 degrees and at dizzying heights and our software developers and content creators produced the bespoke CMS integrations and content templates to frame the live feeds.

"We can't wait to getting people into SNØ again to experience this amazing place!"
Ole Christian Mork, Commercial Director at SNØ comments:

"We are thrilled to have received this award together with ZetaDisplay Norway. We look forward to continuing our partnership with them. The screens offer fantastic opportunities and we can't wait to utilise them once people are back on our slopes."