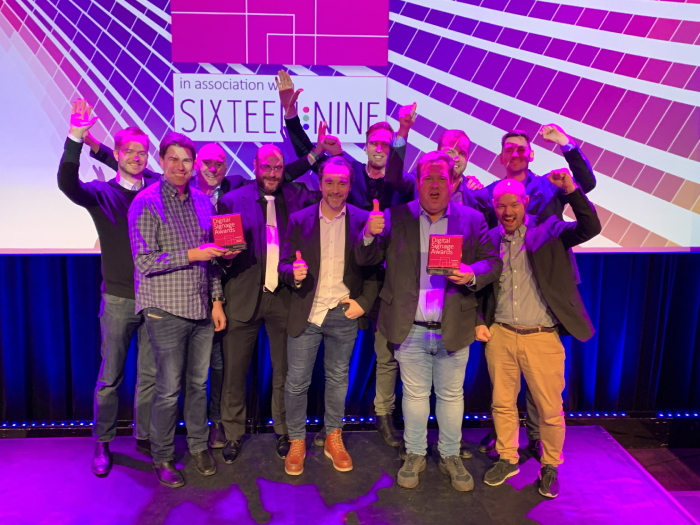 Malmö – ZetaDisplay AB (publ) has won two global prizes at the International Digital Signage Awards in Amsterdam, Netherlands. Both recognitions relate to the delivery of complete Digital Signage installations for the Norwegian cruise ship line Hurtigruten. The projects were delivered by the Norwegian subsidiary of the Group and the awards were given for Technical and Innovation in Management as well as for best in class in the segment resorts, theme parks and attractions.
"Congratulations to the Norwegian team for a job very well done", comments CEO Per Mandorf the ceremony. "We have proven our ability to deliver complex assignments in a demanding customer environment on a global level. It is very rewarding that the industry recognizes our competitive edge", Mandorf adds. "It is a proud day for our team of dedicated Digital Signage professionals and a very satisfying international recognition of our work for Hurtigruten," comments Ola Sæverås, Managing Director ProntoTV and member of group management.
The 10th international Digital Signage Awards are independent and recognize companies, projects, content, campaigns and products from across the world within Digital Signage. The awards are supported by leading players in the industry sector to promote excellence and innovation throughout the sector.
From Digital Experience to Digital Engagement
"When it comes to Digital Signage, we see a clear trend that customer demands move from Experience focused features to reliably showing that our software and services add measurable value", Per Mandorf comments. During the past years, there has been much attention on large size hardware solutions that the industry has underestimated the need of demonstrating the return of investment to its customer base: "Digital Signage needs to become more business-critical to the customer base than it is today. We will see further integrations with external software solutions, partnerships and an increased focus on value creation. Enhanced functionalities and measurable engagement with the end consumer will be a must", describes Mandorf tougher industry demand on measurable performance and the ambition of ZetaDisplay to return successfully to the International Digital Signage Awards in 2021.
Malmö, 13 February 2020
For questions, please contact:
Per Mandorf, President & CEO
Phone +46 704-25 82 34
Email per.mandorf@zetadisplay.de
Daniel Oelker, CCO
Phone +46 708-45 80 54
E-mail daniel.oelker@zetadisplay.de
About ZetaDisplay
ZetaDisplay acts at the heart of digital transformations in physical environments. We contribute to nudging peoples' behavior at the point-of-decision in retail environments, public spaces, and workplace environments. Our solutions are known as Digital Signage that we develop and offer as SaaS-solutions. We are a European leader and intend to drive the further consolidation of the market organically and through acquisitions.
ZetaDisplay has its head office in Malmö. The company generates revenues of MSEK 400 and employs 140 staff at eight offices in six European countries. In total, the company handles 50,000 installations on 50 markets. The share is listed on Nasdaq Stockholm [ZETA].
More information at zetadisplay.de