The Library is the main place to upload, store and edit your content. This area is shared with your colleagues in the same workspace. Here you can create Folders(1) and structure your content, but can also contain Shared folders(2) that are shared from other workspaces or that you are sharing to other workspaces.
The Action button(3) is a very important button, it's a contextual button that changes it's options depending on which page your are visiting. Hovering above the button shows you the available actions in Library; Upload media files(4) , Create folder(5) , Add URL content(6) .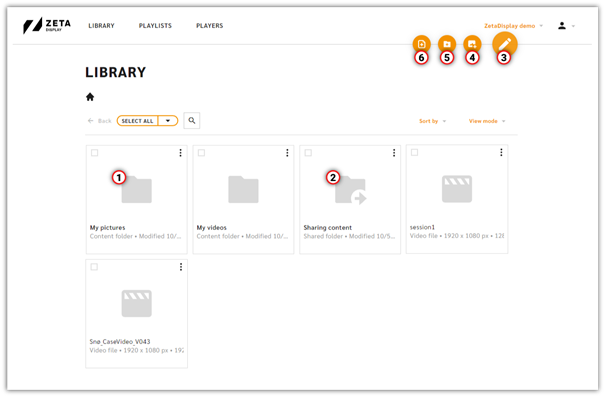 You are able to toggle the view mode(1) between grid and rows depending on how you prefer your library to be presented. The images in the tutorial are shown in grid view. Sorting by(2) is also another way to change the presentation of you content according to your preference.
On every individual item you can find the 3-dotted menu(3). This type of menu will be available through out the system and it gives you options specific to the item you access the menu from. Depending on what item you use this menu on you will get access to options like Edit, Copy and Delete. The 3-dotted menu is only available on items you have full permissions to and not items that is being shared from other workspaces.