How Can We Help?
Search for answers or browse our knowledge base.
When creating a campaign, at step 3, you have the option to select which groups you want to publish your campaign at. In this guide we will use an example location (ZetaDisplay) with 4 screens / players.
ZetaDisplay (contains all 4 screens in this group)

1x screen in the canteen
1x screen at the entrance
1x screen in the showroom
1x screen at the support center
Example 1:
This is a campaign with the intent to be published on all screens at ZetaDisplay . Then you put the check mark in front of group ZetaDisplay. All other boxes can remain empty. By selecting ZetaDisplay you automatically publish the campaign to all screens in this group.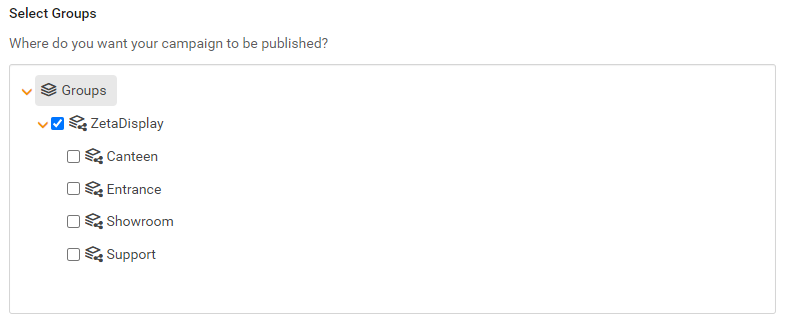 Example 2:
The support department wants to test a campaign that will ultimately have to run in the showroom. They want to test on their own screen and on the screen in the showroom. You only select the check marks for the showroom and support. You leave the other check boxes empty because you do not want to play the campaign on these screens.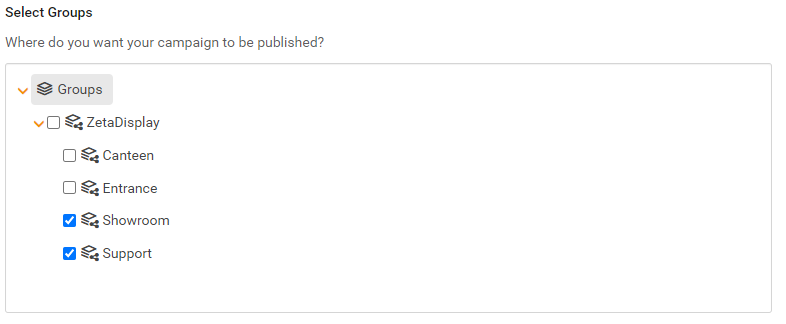 Common mistake
Here we use example 2. What we see a lot is that the Main ZetaDisplay group is still selected so that the campaign is still shown on all screens instead of just the showroom and support.